What Is the Correct Age for a Child's First Dental Visit?
BY DR. AZI A. ARDAKANI, DDS
At Little Heroes of Orange County Pediatric Dentistry, we specialize in caring for young smiles. We're proud to offer a first-time visit for your child, a pleasant experience, and help your child start on the road to a cavity-free smile. You can always count on Dr. Azi and her team for gentle and compassionate care.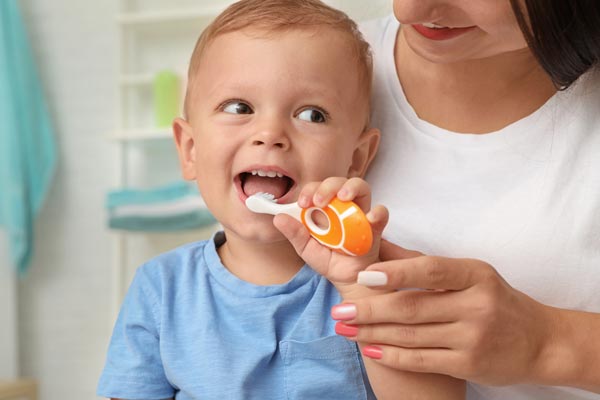 What Is the Correct Age for a Child's First Dental Visit?
As a mom or dad, you'll get to experience so many exciting "firsts." That first smile, first giggle, first step, and even first dental visit. At Little Heroes Pediatric Dentistry of Orange County, we want to make every one of your child's dental appointments a memorable one. We're all about setting the tone for healthy oral care habits your child will retain for life.
When Should you Schedule Your Child's First Visit to the Dentist?
According to the American Academy of Pediatric Dentistry, your little one's first oral health checkup should occur when the baby teeth first start making an appearance and no later than the first birthday. From then on, (eliminate most) children require dental visits every six months to ensure their gums and teeth stay healthy and are developing the way they should.
Why should we Care for Baby Teeth?
Even though your child's baby teeth will eventually fall out (Molars Later in life around age 12), it's important to keep them healthy. Healthy baby teeth assist your child in shaping a balanced anatomical facial structures, in learning how to correctly speak and also helps them in chewing solid foods. A decayed or damaged tooth can interfere with eating, preventing your little one from getting the nutrition needed to grow healthy and strong, and may affect the health of permanent set of teeth and the overall health of all other organs.
What Should You Expect During Your Child's First Visit to the Dentist?
Your baby's first dentist appointment is an important milestone that we're so excited to share with you. Dr. Azi will do everything possible to ensure the visit is a happy and memorable one. If there's anything we can do to make your time with us more positive and comfortable, make sure to let us know.
After greeting you, Dr. Azi will talk to you about your child's oral and overall health, their nutritional habits, and current oral hygiene, and ask if you have any specific concerns. Next, she will examine those tiny pearly whites and evaluate the gums, tongue, lips, and jaw, joints, lymph nodes, throat, and will rule out any problems and ensure your little hero's oral health development is on track.
Dr. Azi will discuss habits, teething, nutrition, fluoride needs, and so much more. She will also talk to you about establishing an oral hygiene routine to keep tooth decay and dental problems at bay. Her goal is to ensure your little one's smile is off to a great start! After full consultation and examination, its time for your child's dental cleaning and fluoride treatment that will be done by professional Pediatric trained assistant.
Quality Pediatric Dentistry Services Near Me in Laguna Beach, CA
Dr. Azi and her kid-friendly team at Little Heroes of Orange County Pediatric Dentistry are excited to welcome you and your little one to our practice. We look forward to working alongside you to set the stage for a lifetime of healthy, bright smiles. We invite you to call our office at 949-342-1484 to schedule your child's appointment or request one online today!