How to Prepare Your Child for the First Dental Visit
BY DR. AZI A. ARDAKANI, DDS
As a parent, you will experience many exciting firsts - the first smile, first baby steps, and first words. Visiting the dentist for the first time is another important milestone to celebrate. Helping prepare your little one for the first dental visit and fostering a positive relationship with the dentist will lay the groundwork for healthy smiles throughout life. Dr. Azi and her team at Little Heroes Pediatric Dentistry look forward to caring for your child.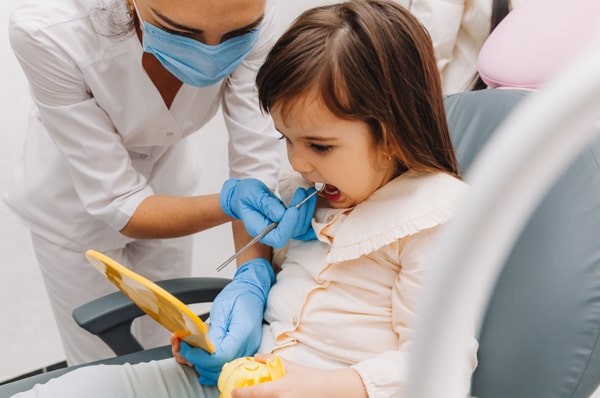 When Should You Schedule Your Child's First Dental Checkup Visit?
The American Academy of Pediatric Dentistry recommends visiting your child's pediatric dentist when the first tooth comes in and no later than the first birthday. Caring for your little one's teeth right from the start will help keep them free of cavities. Maintaining a healthy oral cavity is the priority of parents, especially knowing that dental decay is a problem that affects more than 40% of children ages 2-5. Having healthy teeth will ensure quality chewing and proper speech development and will reflect on the health of the rest of the body.
How Can You Prepare Your Little One for the First Dental Visit?
Here are some ways to prepare your child for the first dental visit:
Choose an experienced pediatric dentist and kid-friendly team to care for your little hero's smile.
Talk to your child about what to expect using kid-friendly language and a happy demeanor, avoiding scary words.
Even if you feel anxious about visiting the dentist, make sure to come across as excited because your child will pick up on your emotions.
Schedule the appointment when your child is well-rested and calm, usually after naptime or mealtime.
Children love role play, so take turns pretending to be a dentist and clean a favorite stuffed animal's teeth.
Read books or watch videos about going to the dentist to help your little one become familiar with the process.
Take a comfort item along, such as a favorite blanket or stuffed animal, to help your child feel secure and relaxed.
If your child acts out, stay calm and remember that we have seen it all; each following visit will get better and better.
After the first dental visit, offer plenty of positive feedback and celebrate the important milestone to help get your child excited about the next dental visit.
What Can You Expect During the First Dental Visit?
Here's a look at what you can expect:
We start by welcoming you and your child.
We review your child's medical history and any dental concerns.
We examine your baby's mouth to rule out any potential problems.
We gently clean your little one's mouth.
We discuss nutrition and healthy oral habits.
We discuss milestones and what to expect in every teething stage and oral and dental growth.
We demonstrate how to care for your child's teeth.
State-of-the-Art Pediatric Dentistry Services Near Me in Laguna Beach, CA
Dr. Azi and her kid-friendly team at Little Heroes of Orange County Pediatric Dentistry thank you for choosing our practice for your child's dental needs. Our pledge to you is that we will do everything we can to ensure your little hero is comfortable and happy while receiving the highest quality dental care. We invite you to call our office at 949-342-1484 to schedule your child's appointment or request one online today!